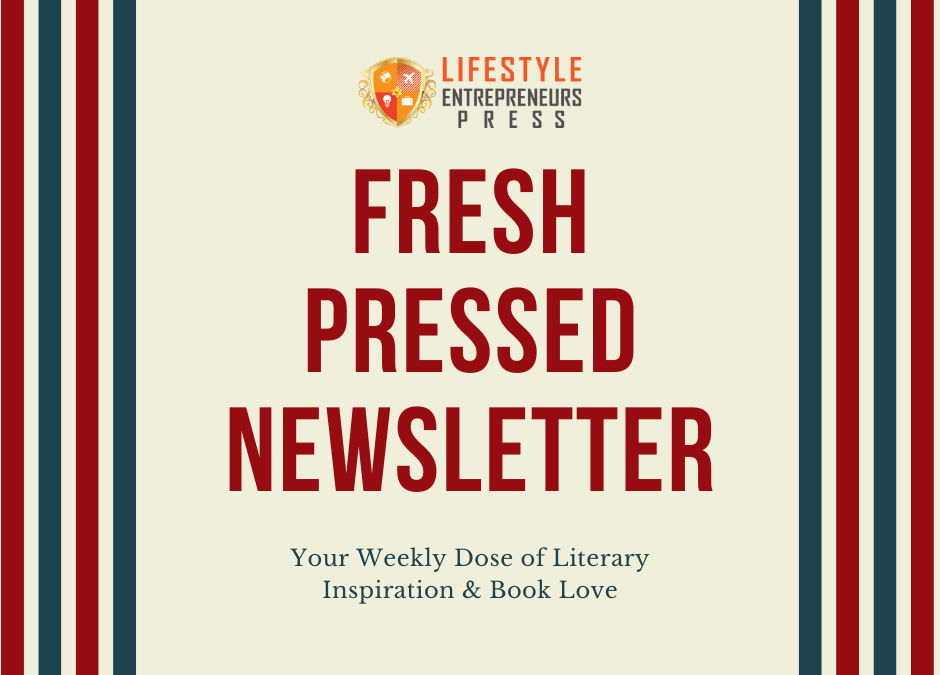 Let me be the first welcome you to our Fresh Pressed Newsletter, the very first edition of what will be a weekly dose of literary inspiration.
If you've been following our work for a while, Thank You and I hope this new format delivers the goods in a brand new way for you!
Each week we'll feature an author, idea or book focused on Entrepreneurship, Health & Wellness and Self-Help.
Let's dive in…
---
ENTREPRENEURSHIP
The 11-Step Formula To Make Money And Get Financial Clarity In Your Business
The term "entrepreneur" continues to gain attention as an exciting and financially rewarding career choice. However, there is a significant risk associated with leaving a comfortable position with a guaranteed salary, benefits, and pension.
But the risk of failure as an entrepreneur can be all but eliminated if you ensure that the financial foundation of your business is planned for, expectations are outlined, and the financial results are consistently monitored.
In Robert Gauvreau's book, The Wealthy Entrepreneur, he explains that there's an 11-step framework that if implemented, will provide you with financial clarity and extraordinary results in your business.
All entrepreneurial endeavors must start with the end in mind. So the first step to generating extraordinary results is being very clear on the outcomes that you desire as an entrepreneur. It's important to answer the following questions:
What do you desire for your business?
What do you desire for yourself personally?
By answering those questions you can set the defining vision for the business. To learn more about Robert's 11-step 'Vision to Results' framework, click here.
---
HEALTH & WELLNESS
A New Way For Women To Navigate The Menopause Years With Grace And Confidence


An empowering new approach has emerged which is helping women to master, not medicate their hormones as they shift from a time of being a caregiver to a self-care seeker.
In Dr. Mindy Pelz's new book, The Menopause Reset, she explains how inside every human being lies an incredible pharmacy ready to heal. Dr. Pelz believes there is a 5-step lifestyle that will maximize that healing.
But it isn't as simple as just going for a jog or doing one three-day water fast. You will need to put together several lifestyle tools to thrive during the menopause years. The five lifestyle changes that make up the menopause reset are:
Step 1: Change When You Eat
Step 2: Address What You Are Eating
Step 3: Repair Your Microbiome
Step 4: Detox Yourself and Your Life
Step 5: Stop the Rushing
When followed in that order, each step can build on the next. Before you know it, you will have all the steps put together in a beautiful lifestyle that works. Click here to learn more about what each of those steps entail.
---
SELF-HELP
Your Blueprint For Optimal Health, Longevity, And Peak Performance
The average American lifespan is decreasing, and the chronic disease epidemic continues to skyrocket. For many, the traditional path of no sleep, hard work, and an unconscious lifestyle deplete them of the health and vitality needed to be their best in their businesses, relationships, and life's mission.
According to Kien Vuu MD, better known as Dr. V by his clients, it doesn't have to be this way. In his new book, Thrive State, Dr V explains his 'BioEnergetic Model', which will help you to transition from a stress state into a "thrive state".
Signs that you are operating in a stress state, and need to pay attention to your health include:
• Excess belly fat ("spare tire")
• Elevated blood sugar levels
• Digestive problems (gas, bloating, constipation, diarrhea)
• Excessive tiredness or exhaustion
• Emotional problems (depression, anxiety)
• "Brain fog"
• Food or airborne allergies
• Skin problems (psoriasis, eczema)
• Gum disease
• Erectile dysfunction in men
But the great news is you have incredible power over your ability to call upon your cellular and genetic self to flourish. If you'd like to learn more about how to enter your "Thrive State", click here.
QUOTE OF THE WEEK
When asked what surprised him most about humanity, the Dalai Lama replied, "Man! Because he sacrifices his health in order to make money. Then he sacrifices money to recuperate his health."
Closing thought: This is the first of our weekly Fresh Pressed Newsletter to help you discover new ideas and inspirational stories. Leave a comment and let us know what you think!
To your success,
Jesse
P.S. Hungry for more?
Explore our Book Catalog -> Click Here
Follow us on Facebook -> Click Here
Follow us on Instagram -> Click Here
Jesse Krieger
Founder & Publisher
"Publisher for the Passionate"