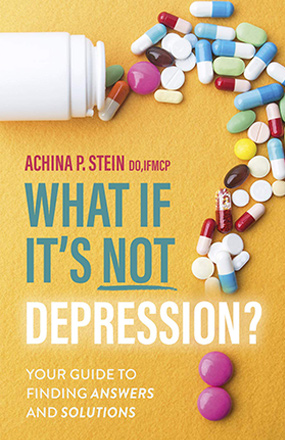 What If It's Not Depression?
Achina P. Stein
Is Depression Really the Cause of Your Symptoms?
You're tired. You have trouble sleeping and thinking, you feel down and stressed out, and you worry that you've lost your edge.
About the book
Is Depression Really the Cause of Your Symptoms?
You're tired. You have trouble sleeping and thinking, you feel down and stressed out, and you worry that you've lost your edge. You're plagued by many physical symptoms, too! Your doctor told you that you were depressed, handed you a prescription for an antidepressant, and referred you to a psychiatrist. Your heart of hearts truly believes that you're not depressed, but you don't know what causes you to feel this way.
What if It's Not Depression? is for the person who is sick and tired of feeling sick and tired, doesn't know why they suffer, is tired of going to doctors who just hand them prescriptions, and is willing to do the work so that they aren't crippled by multiple chronic problems requiring multiple medications.
Psychiatrist and certified functional medicine practitioner Dr. Achina Stein will transform your health through her winning strategies and help you:
Figure out whether you're really depressed or not, and what's actually causing you to feel this way
Get off that emotional roller coaster
Clear up that brain fog and increase your energy and vitality
Avoid being stamped with a lifelong mental illness diagnosis that requires years of medication
Add quality years to your life
What if It's Not Depression? solves your problems by looking for the root causes of your emotional symptoms and helps to bring your mind, body, and spirit back into balance naturally without medication. There is hope for you!
About the Author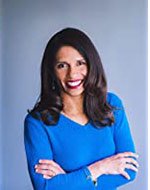 Dr. Achina Stein is an osteopathic physician who graduated from the Rowan University School of Osteopathic Medicine in 1990 and has been in practice as a board-certified psychiatrist for 25+ years. Her osteopathic roots set her apart from conventional psychiatrists because of her use of osteopathic philosophy, manual medicine, and bio-psychosocial treatment approach.
Dr. Stein is a Distinguished Fellow of the American Psychiatric Association and awarded the Exemplary Psychiatrist Award by NAMI-RI in 2008. She is presently in private practice in RI and co-owner of Functional Mind, LLC with advanced nurse practitioner Sally Davidson.
She has lived in Rhode Island since 2000 with her husband and has three adult children. She enjoys playing ultimate frisbee, growing her own vegetables, dancing, and singing.
Reviews
Unlike many of the 'dry' books on psychol. I've read, this book is quite engaging due to the colorful anecdotes interspersed throughout. The author, based her personal & professional experiences, provides a logical rationale for searching for other causes of depression besides the routine "you're just depressed". I believe both patients & practitioners who are frustrated with the standard 'checkbox' method of diagnosis & treatment will find this book interesting & thought-provoking.
Pocket Brain,
Refreshing & Provocative
***
With brilliant insight and authentic experience, Achina Stein guides readers through a journey of discovery to finding the root cause of their health issues–both physical and mental. With a step-by-step approach, this book lays out a plan to those looking for answers when conventional medicine has failed them. Encouraging and filled with hope, I truly believe the field of functional medicine will continue to gain recognition with the help of books like this one. A highly recommended read!
Heidi Chiavaroli,
The Missing Link in the Medical Field
***
I feel so fortunate to have this book. The information provided Indicates that the mind is connected to the body; i.e. the gut, environmental and deeper blood testing reveals scientific information to dispel general labels and inaccurate treatments. There is so much help available here.
Rivka,
Finally…Digging Deeper for Health.