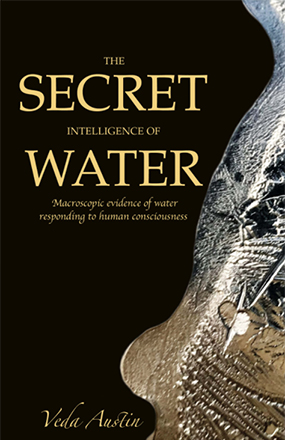 The Secret Intelligence of Water
Veda Austin
The Secret Intelligence of Water takes a quantum leap from the spring board of Masaru Emoto's microscopic work with ice crystals. Through macroscopic photography, and a groundbreaking new technique, researcher Veda Austin, allows us to view water as an intelligent force,…
About the book
The Secret Intelligence of Water takes a quantum leap from the spring board of Masaru Emoto's microscopic work with ice crystals. Through macroscopic photography, and a groundbreaking new technique, researcher Veda Austin, allows us to view water as an intelligent force, with the power to respond to human consciousness in ways never before thought possible.
Focused on the stage between liquid and ice, Veda has spent the last eight years photographing water in a state of 'creation'. She uses influences such as words, thoughts, pictures or music pre freezing, and then captures water's liquid crystal response minutes later. For example, an image of a hand will appear in the ice after the thought of a hand was sent to the water…. even simple words have manifested into form!
These amazing results suggest that water is intentionally communicating through artistic, intelligent design. The substantial visual evidence seen in this book supports the indigenous knowledge systems across the planet, that regard water as a living being.
Veda believes that an emotional connection to water is key to creating change in the way we treat our natural world. She says, "If we think water can feel, we will care for it. If we think it is intelligent, we will learn from it."
About the Author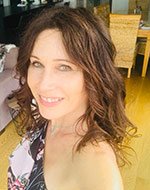 Veda is a water researcher, public speaker, mother, artist and author. She has dedicated the last 8 years observing and photographing the life of water. She believes that water is fluid intelligence, observing itself through every living organism on the planet and in the Universe.
Her primary area of focus is photographing water in its 'state of creation', the space between liquid and ice. It is through her remarkable crystallographic photos that water reveals its awareness of not only Creation, but thought and intention through imagery.
Veda brings a message of hope and joy from the very source of life itself, she says "Water is transparent, it knows no color, creed or religion. Water does not judge, nor does it label, it will enter the body of an ant as easily as it will enter the body of a king, or a homeless person or a tree or a dragonfly. Water is our constant companion, from the moment we are conceived it is always with us…even upon death, it is water that evaporates from the physical rising upwards into the Heavens.
Reviews
"A wonderful blend of art and science. Some of the images are nothing short of amazing. Veda Austin has demonstrated how water responds to our thinking, in ways that I and others would have thought unimaginable. It now falls within the realm of science to see if we can explain what Austinhas so beautifully demonstrated."
Gerald H. Pollack, PhD,
Professor, University of Washington; Editor-in-Chief, WATER.
***
"The book is very, very interesting. It gives an extraordinary message, and in my eyes is an important leap forward from Emoto's images and explanations. Even at first glance, the book gives an amazing new vision into the intelligence of nature."
Rupert Sheldrake, PhD,
Fellow of the Institute of Noetic Sciences, author of Science Set Free/The Science Delusion.
***
"Veda Austin has produced an utter pearl of a book. The Secret Intelligence of water serves up a sumptuous feast for the mind, heart, and soul, along with a delicious helping of eye-candy. Her photographs are stunning, her research mind-boggling, and her co-creations with Water bring wave upon wave of love, lapping at our shore of hope."
Elizabeth B. Jenkins,
international bestselling author of 'The Return of the Inka', 'Journey to Q'eros', & The Fourth Level: Nature Wisdom Teachings of the Inka