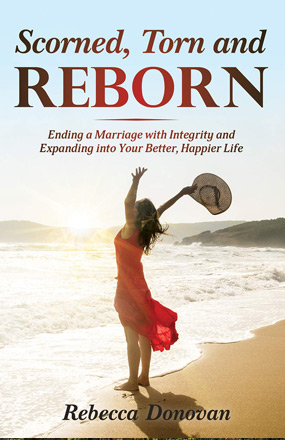 Scorned, Torn & Reborn
Rebecca Donovan
Scorned, Torn and Reborn is written for women who are undergoing a divorce that was initiated by their husbands. It is empathy, but not sympathy; understanding, but not enabling.
About the book
Scorned, Torn and Reborn is written for women who are undergoing a divorce that was initiated by their husbands. It is empathy, but not sympathy; understanding, but not enabling. It is looking back, only to learn to move forward with integrity and confidence.
The book is based on the author's own experiences and insights coupled with hundreds of hours of conversations with friends, interviews with professionals, and other research. The book's purpose is to help women in this group find dignity and grace as they work through the changes that are occurring in their lives. The goal is to come out on the other side of the transition whole and ready to embrace life and happiness.
Scorned, Torn, and Reborn is divided into three distinct sections. In the first section, the author begins with guidance and support for the raw emotions the reader may be experiencing after having learned that her marriage is ending. She discusses the five stages of grief as they pertain to the loss of a marriage.
The various aspects of betrayal are examined, and how to work through them. The author uses her life coaching skills to advise the reader on ways to start rebuilding lost self-esteem. She addresses the negative aspects that chip away at one's self-image and offers tips on how to recognize and combat them.
Rebecca Donovan encourages the reader to incorporate gratitude and acknowledgment of her achievements and abilities into her daily life. The need for self-care, for protecting physical health, is discussed in detail – through adequate sleep, proper nutrition, regular exercise, mental health maintenance, staying connected with people, journaling, laughing, and improving spiritual health through avenues such as yoga and meditation.
The second section addresses the practical aspects of the divorce process, giving advice for legal and financial representation and other professional services that can help make the divorce go smoothly and save the reader money. There is discussion on dividing households to make a new home, supporting the children through the changes, as well as tips for effectively communicating with the estranged husband to establish a cooperative relationship.
About the Authors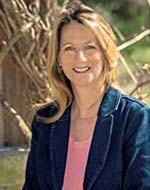 Rebecca Donovan has a multifaceted life-past, present, and future. She grew up in New Mexico and, after many twists and turns in Texas, has finally returned to her roots. Ms. Donovan spent years in finance positions in corporate America before starting a business with her former husband, and later starting one on her own. She has a thirst for new information and new experiences, which led her to become a certified life coach. She is happily single and currently lives in the mountains with her beloved dog, Schatzie.
Reviews
I love the author's thoughtful, transparent approach to a difficult topic. I'm just getting started but I like her writing style and can't wait to continue!
Amazon Customer,
Wish I had this helpful guide when I went through my divorce!
***
his is a very informative book. With so many divorces today women would find information that is beneficial. Wish I had a book like this to read 30 years ago.
Kindle Customer,
Must read for women going through divorce.
***
Scorned, Torn, and Reborn is an intelligent, heartfelt, and sometimes direct look at divorce. Written for women whose husbands have initiated the breakup, the author offers compassion, empathy, and practical advice, punctuated with humor that will make you smile into your pint of Ben and Jerry's New York Super Fudge Chunk—whether you want to or not.
Each chapter includes the author's story—and occasional tough love from someone who's been there and wants to see you through it—followed by exercises and visualizations to guide you through the complicated emotions of divorce.
Donovan is like the best friend from college who tells you like it is and loves you up in the process, helping you see that you're better off now than you've ever been. And who is going to be there for you until the end.
So grab your Ben and Jerry's and your spoon and dig in. Highly recommended.
A. Anderson,
An intelligent, heartfelt guide to divorce.