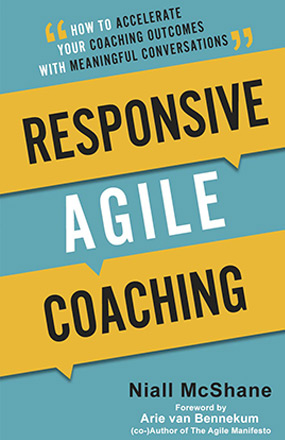 Responsive Agile Coaching
Niall McShane
Managing Disruption & Improving Outcomes by Having Conversations that Really Matter With Foreword by Arie van Bennekum, Author of The Agile Manifesto.
About the book
Managing Disruption & Improving Outcomes by Having Conversations that Really Matter With Foreword by Arie van Bennekum, Author of The Agile Manifesto
In Responsive Agile Coaching Niall McShane draws on over a decade of agile coaching experience to document a clear and well-researched model that lifts the lid on how agile coaching actually works. The book starts by defining what the role of agile coach has become in recent times before putting forward a field-tested and theoretically sound model for conducting agile coaching conversations.
Packed full of real life stories from authentic coaching work you'll laugh and cry with the characters as you learn what it takes to be one of the best agile coaches in the current market. Drawing from areas such as neuroscience, mindfulness, behavior psychology and unlearning theory this book is focussed on when and how to have conversations that matter with clients during times of change.
The central point in the book argues that agile coaches are more than the sum of their competencies; they need to execute the right "moves and steps" during coaching conversations. The model Niall outlines is built around one moment that matters in all agile coaching conversations; Niall calls this the responsive moment. Sensing this moment and responding in a way that best serves the needs of the client and the organization is what the book guides you to be able to do (consistently).
The Responsive Agile Coaching model is a dynamic flow-based approach to delivering agile coaching as a service. It dispels the thinking that agile coaching needs to be delivered by a person with the title of agile coach and aims to "open source" it as a skill anyone can develop. This book puts the 'coaching' back into agile coaching by providing a model to balance the agile expert and coaching elements of agile coaching.
Responsive Agile Coaching is part theory, part practical guide book and part story telling. The book has been written to cater for readers from all backgrounds who are looking to change the way they work; managers, leaders, change agents as well as agile coaches will find insights and inspiration in this book
About the Author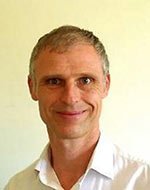 Niall McShane is a coach at heart and throughout his career has applied coaching in many situations; sports, life, leadership and most recently agile and ways to work. There are two consistent themes in all of the coaching Niall has delivered over the years; performance (getting the outcome) and growth (learning to be better). These two elements are central to his work and life as a coach, consultant and person.
McShane has built his agile coaching career through hiring, training, and mentoring others to be coaches. He has done this while delivering agile coaching to a broad range of customers (business and technology). In a recent role he was the head of a coach academy at a large (30,000 people) Australian corporation undergoing a full transformation to its way of working; he trained and established a mentoring approach for 70+ agile coaches from beginner to expert.
Reviews
I really like that some of this is based on U.lab leading from the emerging future. This is really for anyone wanting to learn how to coach agile ways of working. I found it an easy read and full of practical ways that I'm sure will improve my way of coaching.
MattNichols911
***
Regardless of your job title, everyone needs great coaching skills, and this book brings you the latest thinking and techniques.
If you've got great Agile experience over a number of Agile Frameworks and a number of years, you're probably great at spotting problems and 'knowing' how to help your team/client. You're great at 'showing' or 'telling' people the answer.
This only works some of the time. What do you do when you meet resistance to change?
This book mostly focuses on what to do when you meet resistance/push back to your suggestions. Niall shows us many great coaching techniques to help us move the conversation from debate (argument) to dialogue and down into collective creativity and co-creating solutions (where resistance dissolves because you're no longer dictating to the client).
Ian
***
This book is packed with knowledge and written with passion. As an Agile Coach, it is crucial to understand how you can influence the environment around you. As a coach, you need the ability to coach teams and leaders as well. I have seen many Agile Coaches behaving like teachers, rebels, or managers. This behavior was harming their influence. This book helps you to become a better Agile COACH with meaningful conversations and drive the adoption of agile in your organization.
Schwarze