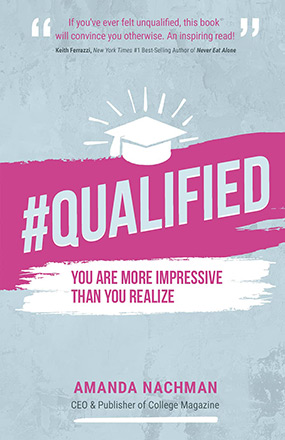 #Qualified
Amanda Nachman
You Are More Impressive Than You Realize. WARNING: This book will make you ambitious AF. Side Effects May Include: Career success. Beyoncé confidence. A renegade resume. Gold medal mindset. Loss of apprehension…
About the book
You Are More Impressive Than You Realize
WARNING: This book will make you ambitious AF.
Side Effects May Include: Career success. Beyoncé confidence. A renegade resume. Gold medal mindset. Loss of apprehension. Read at your own risk.
Everyone always tells you, "do what you love." But how is this possible? You're thinking that you're just not talented enough, or don't have the right degree, or that your goals are too lofty.
Amanda Nachman shares that you are more remarkable than you realize—and that you're worthy of your dream job.
#QUALIFIED breaks through the stress, fear and uncertainty of the job search. You will discover how to make courageous connections IRL, build your personal brand, and grow as a leader to achieve your goals.
Nachman's tangible guide includes:
Interviews with Job Experts and Professionals
3 Actions for a Qualified Mindset
Resume, LinkedIn and Email Templates
Step-by-Step Tutorial for Building Your Personal Brand
Examples to Build Your Own Qualified Journey
Nachman's empowering and easy-to-follow steps in #QUALIFIED prepares you to become an unstoppable career strategist starting now. When you purchase #QUALIFIED, you support Reality Changers, a San Diego nonprofit that helps underserved high school students achieve their dreams of becoming college graduates. We're honored to direct a portion of book sales to Reality Changers.
About the Author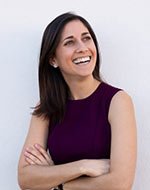 As the CEO and publisher of College Magazine, the trusted guide to navigating college, reaching millions of readers, Amanda Nachman empowers young professionals to achieve a career they love. She's developed a career strategy over last eleven years coaching thousands of students. It's the same strategy that helped her to quit her boring day job and launch her dream magazine. Her graduates have gone on to careers at NBC, USA Today, Vox, Washingtonian, Us Weekly, National Geographic, and more. She's also a keynote speaker and host of the #QUALIFIED podcast found on iTunes and Spotify. Amanda lives in San Diego, CA.
Reviews
Amanda wants us to love what we do and make a greater impact in the world. I can already sense the ripple effect of her book.
Hal Elrod,
Bestselling author of The Miracle Morning and The Miracle Equation
***
Step-by-step, Amanda leads you on a journey to your passion career. She empowers you through personal stories and practical, clear advice to make courageous connections that will change your life!
Dr. Sarah B. Steinberg,
Former Executive Vice Provost, Johns Hopkins University
***
Amanda connects. Amanda is able to break through + intimidating long titles and job descriptions with tangible steps and strategy that are within reach. I look forward to the day where my daughter doesn't need to decode her career path, but until then college students are fortunate to have this book to help them.
David Stollman,
President, CAMPUSPEAK