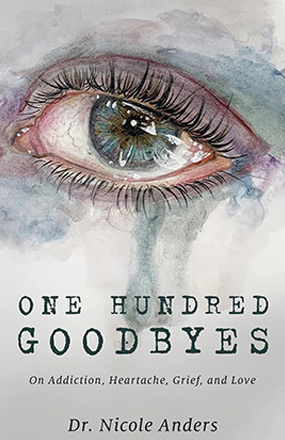 One Hundred Goodbyes
Dr. Nicole Anders
While 5 months pregnant, clinical psychologist Dr. Nicole Anders received a phone call from her father that would shatter her heart and bring her to her knees.
About the book
While 5 months pregnant, clinical psychologist Dr. Nicole Anders received a phone call from her father that would shatter her heart and bring her to her knees.
"He's not in pain anymore," her father said, to the sounds of her sobbing in disbelief. Nicole's younger brother Cody had accidentally overdosed, taking his last breath earlier that morning.
In her profession, Dr. Anders specializes in trauma and Post-Traumatic Stress Disorder (PTSD), working with combat Veterans and sexual assault survivors. While no stranger to loss, this devastating trauma marked for her a profound first-hand experience with PTSD and heartbreaking grief.
About the Authors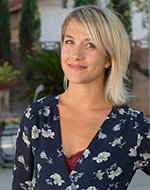 Dr. Nicole Anders is a mother, wife, and big sister of five. Dr. Anders is a licensed clinical psychologist. She specializes in treating PTSD and is trained in numerous evidence-based trauma-processing psychotherapies. Nicole believes strongly in the mind-body connection and, as a certified yoga instructor, finds ways to merge the worlds of psychology and yoga healing. Nicole lives in Las Vegas, NV
You can connect with her at drnicoleanders.com or on Instagram at @CodysBigSister
Reviews
Through a series of short, often poetic posts, Dr Nicole Anders commemorates her brother who accidentally overdosed on opiates at 27 years old. This is a book about grieving and loss but also about healing. Dr Anders pours her heartache onto the pages while also managing to celebrate and cherish the life of her brother. The book is a true life account of dealing with loss, grief, and heartache, and for anyone experiencing those emotions right now I think this book will hit home. The author's perspective as a clinical psychologist is unique, she is helping people with PTSD, grief, loss, addiction in her practice, but in the book she gives a rare in-depth personal perspective into these topics and her feelings on loss. At times it's raw like reading about an open wound which is only just starting to heal. At others it's artistic in the way she describes the beautiful memories with her brother. In some ways it's like an understanding friend. One of the best parts of the book are the chapters on the different stages of grief – I truly think anyone dealing with loss would benefit from reading this. Highly recommended.
Arkh Industries
***
Through her beautiful prose and her trauma-informed clinical experience, Dr. Anders honors her brother's life while shining a light on the hidden and darkest parts of what it means to be human. Each letter is so deeply personal and yet so universal- whether you have lost someone, love someone you fear losing, or know first hand the pain of addiction- you will find yourself and those you love in this book. Dr. Anders' words somehow healed and changed parts of me I didn't know were broken. There is no way to read her words and not not be shifted…and not be reminded of your own humanity and everyone elses' humanity no matter their demons. It just exudes love and ultimately reminds us that to grieve and to long for escape, is so completely human. And the only antidote is connection..
Sam
***
What a wonderful love story. Dr. Anders shares her emotional journey through grief in a unique and vulnerable way. She is brave in her realness. This is not just another book about grief. She really lets the reader into her raw and unfiltered experiences. I highly recommend this book. I applaud Dr. Anders for her ability to beautifully weave her personal narrative with education about grief in a way that feels accessible to all.
Meredith Williamson