LAUNCH YOUR BUSINESS: THE 5 STEP
SOLUTION TO DO WHAT YOU LOVE, QUIT
YOUR JOB AND HAVE THE FREEDOM TO TRAVEL AND LIFE LIVE ON YOUR OWN TERMS
by Rosetta Thurman
ISBN: 9780996340205
Publisher: Lifestyle Entrepreneurs Press
Format: Paperback
Publication Date: 04/26/2015
Page Count: 122
Category: Women in Business
Category: Entrepreneurship
Language: English
Do you ever lie awake in bed on Sunday night, dreading another Monday at your job? Have you been dreaming of being your own boss and having the freedom to travel and work whenever and wherever you want? Maybe at this point in your life, you're craving more fun, excitement and a life of purpose on YOUR terms. Well, here's the #1 challenge to creating the lifestyle you truly want: Getting Started. Rosetta has built a thriving 6-figure business as an author, speaker, mentor and coach. Along the way, she has traveled all over the world, built an incredible tribe and helped thousands of women transform their lives. The journey from being a 9-to-5 nonprofit employee to making a big difference helping others and working for herself full-time hinged on just one decision: Getting Started. Now it's your turn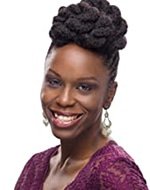 Rosetta Thurman is the founder of HappyBlackWoman.com, a supportive community that empowers women all over the world to transform their lives through the power of personal development and entrepreneurship. She provides high-level training, coaching, and mentoring for women who want to be happy, successful, and free. Rosetta is a professional coach with a certificate in personal development coaching from The CAPP Institute. She holds a Master's Degree in Organizational Management from Trinity Washington University and a Bachelor's Degree in English from Virginia Commonwealth University. Rosetta has been featured in numerous media outlets. She is a member of the Young Entrepreneurs Council and has been recognized as a Top 25 Urban Entrepreneur to Follow, Top 25 Online Influencer in Leadership, Top 100 Most Desirable Mentor, and a New Leader in Philanthropy.
5 Steps to Launch Your Business by Rosetta Thurman
This book has become my business bible. I have started to apply of the advice presented in this book and it has helped. My confidence in myself has increased and I have developed the mindset that if a client does not want to pay for my services then that was not my ideal client anyway and that makes a world of difference. Rosetta makes you take a look at not only your business but yourself and lets you know that you are worthy and valuable and you deserve to be in the business you have chosen I am so excited to start the blogging school and all the rest of the classes offered. I will never miss another live event in Atlanta again. Thanks Rosetta
This book was very informative. I really enjoyed the step by step information that it gave in assisting new business owners with How to launch their business. From simply starting a website, to creating a name for your business, to what you want it to look like and the steps to make it happen….it guides you with information that will be useful to you and your business. It's a great investment in yourself and your business and its a "quick read!"

I joined the Happy Black Woman Business Academy and this book is a great addition.