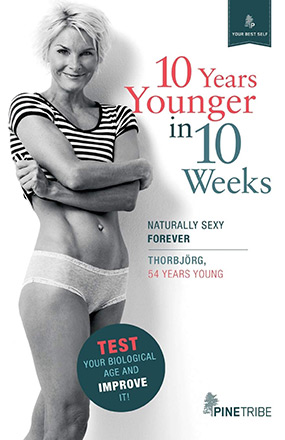 10 Years Younger in 10 Weeks
Thorbjörg
This bestselling book 10 Years Younger in 10 Weeks reached cult status in Scandinavia thanks to a refreshingly natural approach to on how to look and to feel younger. You don't have to ditch the bikini when you turn 40…
About the book
This bestselling book 10 Years Younger in 10 Weeks reached cult status in Scandinavia thanks to a refreshingly natural approach to on how to look and to feel younger. You don't have to ditch the bikini when you turn 40 – this can be the beginning of your sexy years! And it's never too late to start: Thorbjorg's vitality and charisma have made her a wellness guru for women of all ages. The book features a 10-week full anti-age programme from inside out with delicious recipes, invigorating exercises, tests to see how you are progressing and nutritional supplement recommendations. It also provides natural alternatives to injectibles and skin care, and describes cleansing and relaxation as the sources of eternal youth, and case studies from women who talk about how the 10-week programme transformed their lives. Want secrets to avoiding sagging skin, flabby bits and mood swings? Want healthy tips and facts on how your food can make your body younger, your skin firmer and your life more energetic? Read this book on how to become your best self. Are you ready to light the flame? I followed Thorbjorg's 10 Years Younger Program, and was truly delighted with the results. Her deep understanding of nutrition, as much as her motivating personality, made the experience a complete success; and I am certainly not alone in my belief that Thorbjorg's work has the power to make a huge impact on today's culinary and fitness culture. Tamara Rappa, Senior Accessories Editor, The Oprah Magazine
About the Authors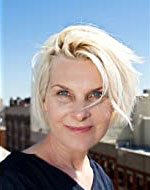 Thorbjörg, 54 Mother of 3 wonderful girls.
Thorbjörg is the author of 10 Years Younger in 10 Weeks, the best-selling book that has taken women by storm in Denmark, Norway, Sweden, Finland and Iceland, where Thorbjörg is born. The book has also raised awareness and healthy debates throughout the country regarding nutrition and wellbeing.
With 23 years experience in nutrition therapy, Thorbjörg is also a trained nurse and certified lifestyle- and nutrition coach. She has expertise in lifestyle changes specializing in sugar addiction, obesity, diabetes, women's diseases, healthy pregnancy, healthy children and anti-age. Thorbjörg has transformed women and men alike in her 10 Years Younger programs and organizes revolutionary workshops called Mother & Child for mother's-to-be and new mothers.
Reviews
A well organized book with good recipes. Helpful for premenopausal or menopausal women. Stay off the fast food! I liked her discussion of supplements for the skin.
Bkeepr,
Good food
***
Item as described, Thanks!
BMT,
Awesome!
***
This book sets up a plan to do a detox and to eat for the future. I loved that each chapter gave you assignments on what to do for the next week breaking tasks up into easily accomplished missions. I am eating well and will continue on the road to health and vitality due to the work of Thorbjorg.
Suzanne Fisher,
refreshing and easy to read