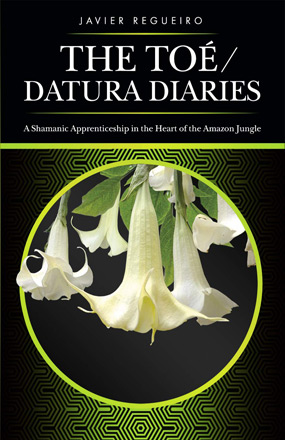 The Toe Datura Diaries
Javier Regueiro
The First Ever Account of Dieting the Revered Shamanic Plant Brugmansia aka Toé / Datura A personal account of the use of the Brugmansia plant commonly known as "Toé," is revealed.
About the book
Javier Regueiro worked and studied intensively with this unique Plant Teacher in 2005 for five months, deep in the Amazon, and again in 2019. These experiences have been essential in his shamanic apprenticeship, as well as a profound personal healing and spiritual process. In The Toé / Datura Diaries these experiences are shared in great detail through journal entries from both shamanic dietas – or diet regimen in Spanish, – as well as extensive commentary on those experiences.
Following his first Toé dieta in 2005, Javier Regueiro began working as a plant medicine person and created the Ayaruna Center in Pisac, Peru. Over the last 10+ years he has been offering healing retreats with Ayahuasca and San Pedro / Huachuma plant medicines, both of which he has published books on.
While this book is not intended as a DIY manual for ingesting either the Toé or any other potentially risky plants, it does provide a very detailed overview and intimate glimpse into both the traditional practice of dieting medicinal plants. The commentary and insights provided are designed to avoid common pitfalls and maximize the time and effort invested in the profound healing process plant medicines provide.
This captivating tale presents an honest and vulnerable journey into the wisdom and medicines of the Amazon jungle. The many challenges faced by the author along the way ultimately led to a profound healing and expansion from engaging with this powerful Plant Teacher.
About the Author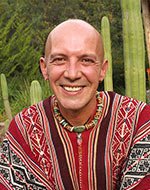 Javier Regueiro is a Spanish national born and raised in Switzerland. He is a certified Massage Therapist (Swedish Institute of Massage Therapy, New York City), Rebirther (Body Electric School, Oakland, CA) and Avatar Master, and a student of "A Course In Miracles".
He moved to Peru in 2004 to study Amazonian plant medicine and shamanism, and has apprenticed with various teachers in the Iquitos and Pucallpa areas. He has undergone several months of shamanic diets, learning the use and healing properties of plant teachers such as ayahuasca, tobacco and datura among others, and has become a full-time ayahuasquero since.
Reviews
The author provides an intimate portrait of the author's spiritual journey of coming into radical acceptance of being oneself. Even if you have not have used plant medicines, Javier's nods to Jung and transcendental themes was a welcome surprise. Although we know we are all trying to catch the "monkey mind" and keep it from driving us, joining Javier on this journey helped to remind me to defer my reliance in my own thinking process and to trust the instincts that comes from within the body and the heart. With great honesty, Javier discusses facing his own shadow side(s) and in sharing this vulnerability, it allowed me to see my own. Within the spiritual and psychedelic contexts, often "light and love" is sought to the detriment of avoiding the whole–which includes the shadow. The sharings and knowledge within this intimate portrait allowed me to experience and feel my own shadow-sides with less resistance and more curiosity. I also truly appreciated Javier's sharing of how much he learned and how his purpose in writing the book was to fulfill a sharing of what his journey showed him, and to share this with all beings rather than to "hoard" and covet the information–which sometimes occurs within elite spiritual circles where there is a "gatekeeper" mentality.
Amy Wong
***
I found this book so interesting that I bought both the audiobook and then kindle version! Javier takes you on a journey through decades of plant medicine work from his eyes as an apprentice to eventually becoming a leader and facilitator of plant medicine ceremonies. His experience working with many different Amazonian plants are explained in a humble, clear and entertaining way. He uses his own personal learnings to cast a light on and expose the human mind and ego, its thoughts, behaviour and habits that are causing so much pain and sadness – and in one way or another both relatable and insightful to anyone reading this book. My outmost respect and gratitude for Javier and his courage to go where no man has gone before, to learn, explore and share his knowledge for the benefit of everyone. This book will leave you thinking for hours each time you put it down.
Henrik Zillmer
***
I am only 40 minutes into the audiobook and I find myself so nourished by the information that if it ended after the first chapter I would still consider it among the most important writings about the plant medicine path! Each sentence is so full that I am often rewinding to take it in, pause to reflect, watch my brain reorganize itself around what it is learning, and then continuing on. Javier's convictions are clear and yet his certainty is relaxed without attachment to being right, often reminding the listener, "This is just my opinion." Bravo! And I haven't even gotten to the Toe' part yet!
Michael