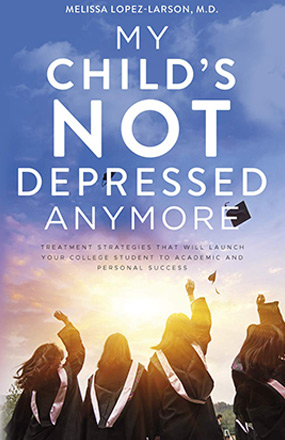 My Child's NOT Depressed Anymore
Melissa Lopez-Larson M.D.
Is depression preventing your child from finishing college? Has your son or daughter dropped out of college due to depression? Are you overwhelmed with how to get your child's depression treated so they can get back into college?
About the book
Is depression preventing your child from finishing college?
Has your son or daughter dropped out of college due to depression? Are you overwhelmed with how to get your child's depression treated so they can get back into college? Do you struggle to find the right professionals to address your fears and concerns and get your child back on track?
Depression can greatly impact a young adult's successful completion of college, leaving them and their parents overwhelmed and anxious about the future. As a Harvard-trained, board-certified child, adolescent, and adult psychiatrist with over fifteen years of experience, Dr. Melissa Lopez-Larson has helped hundreds of parents and young adults overcome depression and successfully complete college.
In My Child's Not Depressed Anymore, you will find her seven steps to tackle these issues head-on and learn to:
Identify the cause of your child's depressive symptoms
Work with your mental health providers to develop a collaborative and holistic treatment plan that meets your young adult where they are at right now
Avoid and overcome the typical obstacles for treating depression in your son or daughter
Create a successful, multidisciplinary transition plan for your son or daughter so they can return to college
Experience the relief of knowing your child will be able to manage their depression on their own and succeed in college and beyond
My Child's Not Depressed Anymore will help you expedite the process of evaluating and treating your child's depression to get them back into college successfully.
About the Author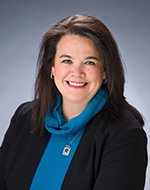 Dr. Melissa Lopez-Larson is a board-certified psychiatrist for adults, children, and adolescents. She received her MD from the University of Cincinnati School of Medicine. Dr. Lopez-Larson performed her adult and child psychiatry training at Harvard Medical School training sites, including Massachusetts General Hospital, McLean Hospital, and Cambridge Hospital. For over fifteen years, she practiced in a variety of settings, including academic research, inpatient, residential, and outpatient psychiatric services. She has extensive clinical and research experience and completed an integrative medicine fellowship in the fall of 2017. Through this fellowship, Melissa developed a diverse knowledgebase in complementary mind-body techniques to further personalize her approach to helping patients heal. Her unique skill set resulted in the establishment of a practice in Park City, Utah, that combines classic psychiatric services with evidence-based complementary treatments, supplements, nutrition, meditation and other modalities, including Transcranial Magnetic Stimulation (TMS), to provide an individual with a holistic approach to the treatment of mental health related issues. Melissa lives with her family in Park City. She enjoys spending time with her family traveling to the beach and skiing the best powder on earth. She also enjoys golfing and hiking in the beautiful mountains during the spring and summer.
Reviews
When I was young, there were travelers guidebooks for every country and vacation trip destination and you didn't leave home without it. Dr. Lopez-Lawson has written an essential guidebook for the parent and student entering the world of higher education with all its modern challenges. In it, her "Seven Steps Approach" provides concrete guidance on how to identify and deal with the major mental health challenges faced by today's college students…
Woman on the Mountain,
A Must Read GuideBook for parents, college students, and university personnel!
***
I would strongly recommend this book to teens, young adults, parents, caregivers, and anyone interested in evidence-based, effective management of depression. An excellent source of knowledge and support for parents and caregivers of teenagers/young adults who are or might be experiencing depression.
Dr. Lopez-Larson does an exceptional job explaining the Seven-Step collaborative treatment plan that she has used to help many young adults suffering from depression. Melding traditional, alternative, and complementary approaches to heal both the mind and the body…
JC,
A must read! Highly recommended!
***
In her book, "My Child's NOT Depressed Anymore," Dr. Melissa Lopez-Larson, M.D., addresses a serious and prevalent issue every parent fears — having a child show signs of depression — and adds to it the helpless feeling of having the child be in college. No longer under your roof, and no longer a minor, parents find themselves in a caring, concerned position, yet are left feeling helpless and hopeless.
S. F.,
Timely Information for Parents Feeling Frustrated & Hopeless with a Depressed College-aged Child