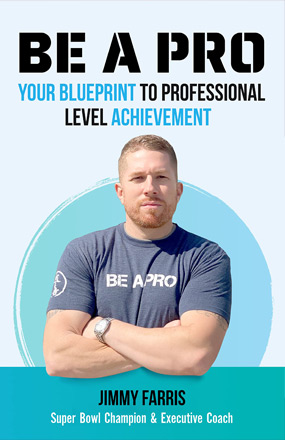 What does it take to succeed in life and business at the highest level? Do you know the habits, mindsets, principles and practices employed by world-class performers that allow them to consistently achieve their goals, break records, and realize success? 
About the book
Be A Pro: Your Blueprint to Professional Level Achievement is not your typical business, self-help, or personal development book full of the latest success hacks or breakthroughs in the world of psychology and neuroscience. Instead, It's the story of how Jimmy Farris, a kid from a small town with a big dream, went from being an underdog to a Super Bowl Champion by doing the "basics" at an extraordinarily high level.
At the age of 10, Jimmy wrote down a goal to one day play in the NFL. Thirteen years later he achieved that goal and spent a total of six seasons in the NFL, winning a Super Bowl with the New England Patriots in 2001.
How did he do it? By developing the mindset and mental toughness to practice simple, daily habits at an extraordinarily high level. In Be A Pro, Jimmy lays out the 33 Habits of All-Pros that unlock improvements in every area of life, so no matter where you're starting you can arrive at where you want to be.
It turns out that high-performers are not anomalies or outliers like many would have you believe. They are ordinary, everyday people who have cultivated a mindset founded in discipline, hard work, confidence, persistence, resilience, and optimism that allows them to consistently achieve whatever they put their mind to.
If you're ready to go to the next-level, become the best version of yourself, and realize the success, happiness, fulfillment, and achievement you've been chasing, Be A Pro is your blueprint to professional level achievement.
About the Author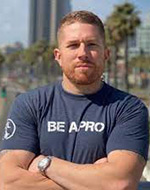 Jimmy Farris is a former NFL wide receiver, Super Bowl champion, and author of Be A Pro: Your Blueprint to Professional Level Achievement

At the age of ten, Jimmy wrote down the goal of playing in the NFL. Knowing he faced long odds, Jimmy committed to the hard work and discipline it would take to have a shot at becoming a professional athlete. After going undrafted, Jimmy was unwilling to give up on his lifelong goal of playing in the NFL and signed a free agent contract with the San Francisco 49ers. He spent the next six seasons as a wide receiver with the 49ers, Atlanta Falcons, Washington Football Team, and as a member of the 2001 Patriots Super Bowl Championship team!
Reviews
No Reviews at the moment.